Gold Card Provides Free Admission to Fine Arts and Athletics Events for Community Age 60 plus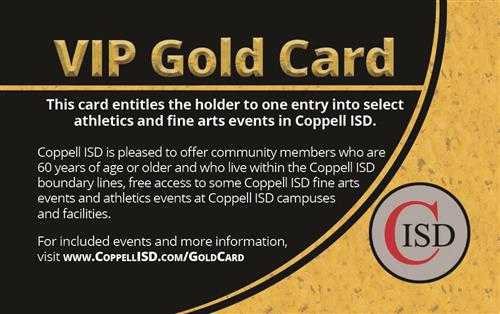 Coppell ISD is pleased to offer community members who are 60 years of age or older and who live within the Coppell ISD boundary lines, free access to some CISD fine arts events and athletics events at CISD campuses and facilities.
To receive a VIP Gold Card, please fill out this form and then CISD will mail the VIP Gold Card to your home. If you would prefer, you can visit the Vonita White Administration Building at 200 S. Denton Tap Rd in Coppell to pick up your card.
CISD VIP Gold Card Members can attend all middle and high school home athletic events for free upon showing their Gold Card during admission. VIP Gold Card Members can also attend some fine arts events for free.